What Do Prison, the Olympics and Triathlon Have in Common?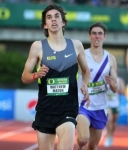 May 16, 2015
The 4 minute Mile. As the sixth American high schooler gets inducted into this exclusive club, we take a look at what might be in store for him.
By Duncan Larkin, Outside
Matthew Maton made history last Friday. The high school senior ran the prestigious Mile event at the Oregon Twilight Meet in a blazing 3 minutes, 59.38 seconds—a time that was once thought impossible for a human to achieve until Roger Bannister broke the 4 minute barrier in 1954.
Maton is only 19-years-old and is just the sixth American high school runner in history to go sub-4, which makes his achievement especially remarkable. It puts him in a new class of athletes, and it surely has fans of the sport pondering the future of someone who can run at a level only reachable by a handful of humans. But what happens to teenagers like Maton who break the 4 minute Mile in high school, the athletic equivalent of becoming a child star? Do they burn out early or do they tend go on to lead successful running careers, complete with podium laurels and Olympic medals?
As with most teen-athlete-phenom stories, there are no definitive answers to these questions. The other five in the sub-4 club are a mixed bag. First, and perhaps most famous, there's Jim Ryun, the first high school athlete to average under 60 seconds a lap. After he blazed the trail in 1964, Ryun went on to represent the U.S. in three Olympics, winning the silver medal in the 1500m in Mexico City and owning the world record in that distance. Ryun eventually went on to serve as a member of Congress from 1996 to 2007. He currently mentors young runners through his Jim Ryun Running Camp.
Continue reading at: www.outsideonline.com