Willis Leads Stellar Field for Inaugural Guardian Mile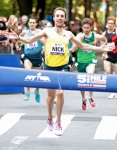 July 23, 2018
Men's field boasts 12 sub-4 minute Milers; $14,000 prize purse with $3000 to each race champion
By Mark Dwyer, MileSplit OH
Racing fans in Northeast Ohio are in for a treat on Saturday, August 11th, as the inaugural Guardian Mile featuring a host of international elites and top local high school runners will take place in downtown Cleveland and cross the Hope Memorial Bridge.
Among the notables in the pro field is New Zealand's Nick Willis. The two-time Olympic 1500m medalist sports an impressive Mile personal record of 3:49.83. The University of Michigan alum will have no shortage of competition to test him on race day, as elite athlete coordinator Nate Brannen has put together an outstanding field that includes Colby Alexander and Sam Prakel. Alexander is a former distance stand-out at Strongsville and Prakel represented Versailles during his high school career. Both athletes will bring big-time credentials with them to the Guardian Mile: Alexander's PRs include 3:50.3 (road Mile) and 3:34.88 (1500m), while Prakel's personal bests are 3:55.80 (Mile) and 3:36.84 (1500m).
Sam McEntee will add further international flavor to the race as the former Villanova Wildcat has confirmed his entry. The Australian raced the 5000m at the 2016 Rio Olympics, and the 2018 Medtronic TC 1 Mile champion has a sub-4 minute Mile time (3:57.05) on his resume.
The deep women's field is highlighted by 2016 Rio Olympian Violah Lagat and 2017 World Championships semi-finalist Sara Vaughn.
Continue reading at: oh.milesplit.com