Woof! Four Legs & Two Legs Get Ready for HOKA ONE ONE State Street Mile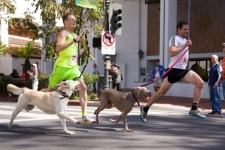 June 05, 2015
Santa Barbara prepares for the fastest event in its downtown State Street Mile business district with the Elite and Age Group Miles, Family Mile and the unofficial world championship Dog Mile; 2015 Bring Back the Mile Featured Event
By Mike Takeuchi, Endorphin Release
There could have been a controversy, but Hank would have none of that. Although the runner and his biped partner Geoff Gray had appeared to cross the finish line at the 2014 State Street Mile a cold nose ahead of Los Angeles resident Kay and his human partner Brian Duff, the result was not high on Hank's priority list.
"I don't know, it doesn't really matter so much as how we ran," Geoff said at the time as Hank wagged his tail, easily shaking off the tie, perhaps in anticipation of a kibble reward after finishing the Dog Mile. "And Hank was amazing!"
This Sunday, at the newly named HOKA ONE ONE State Street Mile, Hank and Geoff will get their shot as outright champions where they will be among the dozens of canine/human duos at a 16th annual event that will also host hundreds of the latter group.
"The Dog Mile can get pretty competitive, however it is also a great way to get the "dogs out" for some socialization and a brisk walk or jog," race director Megan Rheinschild said. "I've never seen bigger dog smiles…It always makes for comedic entertainment with some dogs choosing to sniff and wander versus satisfy their competitive owners interests in placing. I've seen all manner of dog/human duos, and sometimes the dogs just opt out, being carried along the way. The State Street Mile has seen some human/canine duos with course records of 4:22 Matt Johnsrud and Charlie. It is a not to be missed, spectator's event! We like to coin the phrase the unofficial World Championships of the Dog Mile…in our own backyard!"
Continue reading at: endorphinrelease.com