Wynne's Winning Ways Resemble Steve Scott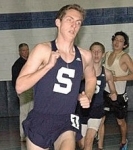 February 06, 2013
High School Athlete of the WeeK
By Marc Bloom, Running Times
The story of Henry Wynne, the latest boys' high school Mile luminary, is so retro it's spooky.
Wynne's mother, a runner, had to toss him out of bed as a freshman to join the high school cross country team. Once he took to running, he preferred speed over distance. He's become remarkably consistent with fast times. He's a workhorse who often triples in meets. And when he's not running he's playing golf.
Think for moment. Reminds you of Steve Scott, right?
Continue reading at: runnersworld.com