Yomif Kejelcha just misses indoor world record at Wanamaker Mile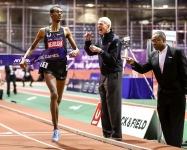 February 09, 2019
Konstanze Klosterhalfen won the women's Mile in 4:19.98, the fastest time in the world this season and Germany's indoor record
By Jordan Lauterbach, Newsday
Not even the rabbit could keep pace with Yomif Kejelcha. Then again, almost no one has run at the pace kept by Kejelcha Saturday afternoon. The Ethiopian won the Wanamaker Mile in 3 minutes, 48.46 seconds at the 112th Millrose Games at The Armory in Manhattan.
The time was the fastest Mile in the world this year and one tick — literally — off the indoor world record of 3:48.45 set by Morocco's Hicham El Guerrouj in 1997. His mark, however, did set the U.S. All-Comers record, bettering 3:49.44 by Kenyan Edward Cheserek - Wanamaker runner-up - in February 2018.
"As soon as I crossed the line, I looked up at the screen and I understood I had not broken it," Kejelcha said through an interpreter.
Colloquially, a 'rabbit' is a lead runner who sets a pre-determined quick pace in a distance race and drops off about halfway through as top echelon competitors battle it out.
Saturday's Wanamaker rabbit, American Rob Napolitano, was too slow for Kejelcha. Toward the end of Napolitano's pace setting, Kejelcha passed him.
"Because [Napolitano] went the first 400 meters really fast, I felt that at the 800 meters he was struggling a little bit," Kejelcha said. "I sensed that, so I thought I should pass him. I think if I had stayed with him, I would have slowed even more."
Kejelcha said that the world record was his goal entering the event and he's confident that he will break it this year.
Continue reading at: newsday.com
Photo credit: Kevin Morris