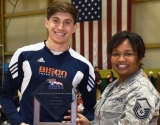 March 03, 2015
"I think that took him to the next level and now he's got confidence and swagger a great Miler needs."
By Brad Emons, Hometown Life
Chasing that elusive sub-4 minute Mile barrier strengthened the resolve of British Olympian Sir Roger Bannister back in the early 1950s.
Fast forward to 2015...
Read More
comments