Garcia-Garrison excels as 4-minute Miler at Bucknell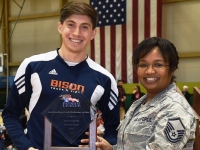 March 03, 2015
"I think that took him to the next level and now he's got confidence and swagger a great Miler needs."
By Brad Emons, Hometown Life
Chasing that elusive sub-4 minute Mile barrier strengthened the resolve of British Olympian Sir Roger Bannister back in the early 1950s.
Fast forward to 2015 and the same could be said of Bucknell University senior Andrew Garcia-Garrison, a Novi Detroit Catholic Central High grad who moved a step closer on Sunday at Boston University's Last Chance Meet when he ran a winning 4:00.51.
Garcia-Garrison had already set the school record in the event earlier this indoor season, running a 4:02.35 at the Penn State National Invitational.
"Andrew ran a great race," Donner said. "He may have still been a tad fatigued from four races at leagues, but he was able to muscle his way to a win and a nice PR."
Continue reading at: www.hometownlife.com