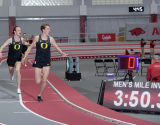 March 01, 2021
The secret behind this winter's Duck Mile breakout, if there is one, is coach Ben Thomas, according to his athletes.
By Sieg Lindstrom, Track & Field News
Miling is breaking out in Duck Town. Again. With head-scratching times and depth. Many aspects of life have come without precedent in the...
Read More
comments