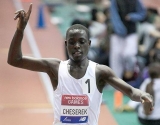 February 07, 2015
Cheserek should join the coveted sub-4 Mile club in his Armory homecoming at storied 108th Millrose Games.
By Doug Binder, ArmoryTrack.com
It's been two years since Edward Cheserek raced at The Armory, and as much of a high school sensation as he was then, he's even bigger now.
Cheserek...
Read More
comments