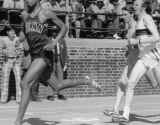 March 04, 2015
Administrator set records for Penn track in 70s including the first Ivy League athlete to run a sub-4 minute Mile.
By Steven Jacobson, The Daily Pennsylvanian
As a bookish, unathletic high school freshman, Elton Cochran-Fikes shuddered at the idea of anything having to do with sports.
...
Read More
comments