More than just a race for Cochran-Fikes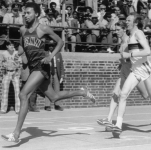 March 04, 2015
Administrator set records for Penn track in 70s including the first Ivy League athlete to run a sub-4 minute Mile.
By Steven Jacobson, The Daily Pennsylvanian
As a bookish, unathletic high school freshman, Elton Cochran-Fikes shuddered at the idea of anything having to do with sports.
Little did he know that, less than a decade later, he would become the first Ivy League athlete to run a Mile in less than four minutes.
Now Penn's athletic compliance officer, Cochran-Fikes set twenty-five school records, won seven Heptagonal medals and twice was named an All-American as a middle distance runner for the Quakers' track and field team in the early 1970s. Stints in institutions as diverse as the Marines and seminary took him from Virginia to Harlem to Harvard and everywhere in between.
Yet, despite the places he went in life, Cochran-Fikes could always return to the place where he felt most at home: Penn.
Born in a small North Carolina town, Denis E. Fikes — as he was known back then — was raised as the youngest of five children in a single-parent household. Although his older brother and sister were both actively involved with sports, Elton shied away from physical activity as a result of a sprinting race against his sister that ended poorly for him.
"I just got destroyed," Cochran-Fikes laughed. "Absolutely destroyed."
Continue reading at: www.thedp.com