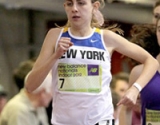 February 21, 2013
She has the fastest Mile time of the year among entrants for March 2-3 indoor championships.
By Peter Gambaccini, Runner's World
Mary Cain has entered the 800-meter run and the Mile at the USA Indoor Track & Field Championships, to be held March 2 and 3 in Albuquerque. The 16-year-old...
Read More
comments