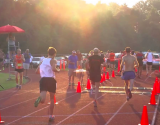 July 22, 2015
The runners are heroic just to finish the four laps around the track (plus 9.34 meters). Fast or slow, going for records or just trying to go the distance, they'll all be running a Mile.
By Herb Wills, Tallahassee Democrat
Gulf Winds Track Club hosts its 18th "Breakfast on the Track" one-Mile...
Read More
comments