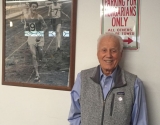 July 09, 2018
He said I'd have lots of friends when I am #1 on top, but that he would there for me when I'm not.
By Jacqueline Hansen
When I reflect on life, I think of Joni Mitchell. She is my favorite female artist and poet. She wrote "We're captive on the carousel of time. We can't return, we can only...
Read More
comments