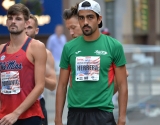 April 22, 2019
SoCal native and 2018 BBTM GP Tour champion: "You find out that the chip on the shoulder type mentality can only take you so far."
By David Monico, Bring Back the Mile
Daniel Herrera, 26, is a rising star in the Mile ranks. In 2018, Herrera, with consistent racing, won the men's BBTM Grand...
Read More
comments