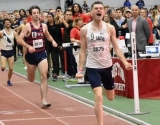 April 20, 2020
"Not only was it a historic milestone for me, but it was also a very emotional day. My grandmother passed away from cancer last summer and that very day was her first birthday since. I actually had her name written on my spikes."
By Charlie O'Donovan
One of the top highlights for Villanova...
Read More
comments