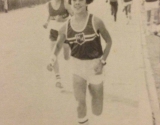 October 20, 2014
Top Master and 3:55 Miler goes sub-5 for the Mile for 33rd straight year.
By Christian Cushing-Murray
I woke up this morning, Saturday, October 18, and broke 5 minutes in a Mile. This is not meant to be boastful--those who know me know that it does not require a monumental effort--yet--on my...
Read More
comments