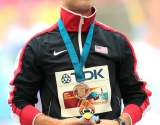 October 24, 2014
Mile repeats least favorite workout, but "I need to run these sessions to be able to run three great rounds of the 800m."
By Steve Landells for the IAAF
U.S. 800m star Nick Symmonds is the latest athlete to answer our work, rest and play questions.
The world 800m silver medalist talks...
Read More
comments