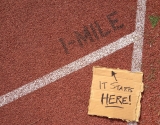 August 20, 2014
"Runners have to be tough physically and mentally. The Mile race combines both speed and endurance..."
By David Yon, Tallahassee Democrat
I am setting it as a goal for 2015 right now. If I can stay healthy, I want to be ready to race the Breakfast on the Track event next year.
There is...
Read More
comments