1954 & Its Sportsman: Roger Bannister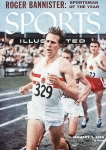 January 03, 1955
The year brought shining performances in a host of sports, but the electrifying running of history's first 4 minute Miler—a man of no fanfare—made him year's pre-eminent Man of Sport
By Gerald Holland, Sports Illustrated
If ever a good speech ruined a dinner it was that delivered by Dr. Roger Gilbert Bannister to the English Sportswriters Association on Dec. 9. Speaking easily and with natural poise, Bannister recalled for his listeners the drudgery of training, through winter rain and mud, that led to the first 4 minute Mile. He spoke of the companionship of effort—on the part of his pacemakers, Chris Chataway and Chris Brasher—"that turned even the drudgery into a pleasure." Then, in a few words, he brought his great year, and his great career, to an end, and sent his newspapermen hosts scattering to telephones:
"Now that I am taking up a hospital appointment," said Roger Bannister, "I shall have to give up international athletics. I shall not have sufficient time to put up a first-class performance. There would be little satisfaction for me in a second-rate performance, and it would be wrong to give one when representing my country."
The speech was typical of the tall, thin, unathletic-looking 25-year-old who on May 6 electrified the world by running the Mile in 3:59.4, then did it again by beating Australia's John Landy in a duel of 4-minute men, in 3:58.8 at Vancouver's Empire Games. There is no fuss and fanfare about Bannister. When he was asked to explain that first 4 minute Mile—and the art of record-breaking—he answered with original directness: "It's the ability to take more out of yourself than you've got." Before his first big Mile, he had spent hour after hour charting his own racing metabolism, but when he was invited to speak learnedly about his running style, he said: "You run best the way you're made to run."
Bannister was made to run with long, steady, deceptively easy-looking strides—and, for a finisher—the electric burst of final speed that caught John Landy a few yards from the tape at Vancouver. By coincidence, on the same day that Bannister announced his retirement, Landy said that he believed his days of competition were over too. The great Australian Miler, whose 3:58 at Turku, Finland, is still the world record for the Mile, is, like Bannister, buckling down to a career. In Landy's case it will be school teaching. From Landy, who himself provided one of the most dramatic performances of the year, or any year, came this tribute to Bannister at Vancouver: "I had hoped that the pace would be so fast that he would crack... He didn't. When you get a man in that sort of situation and he doesn't crack, you do."
It was a year of shining performances in a host of sports—by personalities recognizable simply as Willie and Yogi and Dusty and Rocky and Billy Joe and Banana Nose and the Dancer and Hopalong and Crazylegs. It was a year of zealous pursuit of a hundred other sports by tens of millions of leisure-time sportsmen, from the President of the United States on down. The cast of candidates was tremendous—and yet, when it came to picking the inaugural Sportsman of the Year, the compelling choice was the man who set himself an athlete's severest challenge, the 4 minute Mile; who met the challenge superbly (in exchange for a couple of small, inexpensive medals), and then turned to the next challenge, that of a strenuous profession; the Miler-turned doctor, Roger Bannister.
Continue reading at: sportsillustrated.com