2013 Track Chats: Meet 4:05 Miler Ben Malone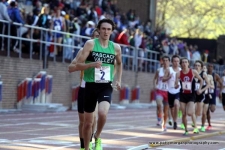 May 21, 2013
By Aaron Rich, MileSplit
MileSplit - Ben, you have been on a roll so far this outdoor season! You won the Loucks Mile in a slower time (if you could call it that!), but an awesome tactical race. Talk a bit about that…
Ben - Well I've been pretty happy overall with how its gone so far. This is really my first injury-free outdoor season and I'm truly enjoying it. Penn didn't end up the way I had wanted it to, but I've learned a lot from that race and it can only help me for the future. Loucks was a lot of fun, I went in there with no pressure and just wanted to enjoy myself and that's what I did. I knew I was capable of running with anyone in that field and I was happy to come out on top, but at the same time excited to race Edward Cheserek again the Dream Mile.
MileSplit - Then earlier this week you ran a NJ state record of 3:46.97 for 1500m, better than the 3:48.0 set by Kevin Byrne back in 1977. What is it like to take down a record of such historical significance?
Ben - It's truly humbling to have my name on the same lists as some of the legends such as Kevin. He's an all-time great and to accomplish something that he did in high school really speaks to the significance of it. Truly an honor to have one of his records.
Continue reading at: milesplit.com