2015 NYRR Millrose Games: Wanamaker Mile cheat sheets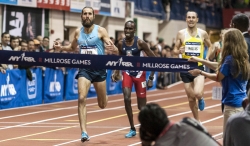 February 13, 2015
Defending race champions Will Leer, Mary Cain face stellar fields at The Armory; Masters world record for 8-time Wanamaker MIle champion and evergreen Bernard Lagat?
By Chris Chavez, Sporting News
While thousands will flock to the Barclays Center for NBA All-Star Weekend, the greatest feats of athleticism Saturday can be seen at the New Balance Track & Field Center, about a 40-minute train ride away. That's where the 108th Millrose Games will be taking place. The meet has been a staple of track & field as it combines some of the best talent from the high school, collegiate and professional ranks.
The signature events of the night will be the men's and women's Mile, also known as the storied Wanamaker Mile. The race has been held at the meet since 1908 and features one of the fastest fields of the winter season.
Here's a cheat sheet to pull up on your phone or laptop before watching with friends:
Men's Wanamaker Mile
Bernard Lagat (eight-time Wanamaker Mile champion): This tough field might lose to a Masters runner, 40, who showed last weekend in Boston that he can still close a 3000 meter run in 27 seconds. Father Time has not ben able to catch Lagat and not many runners will, either.
Will Leer (2014 Wanamaker Mile champion): Ran 3:57.54 at the Hilton Garden Innvitational to open his season at the Bring Back the Mile Grand Prix Tour and cannot be counted out after kicking down everyone in the final stretch for last year's victory, followed by throwing up the double guns.
Nick Willis: The Kiwi showed in Boston that he is in 3:51 shape and that everyone should be afraid of the 3:29 1500m runner. He's responding better to his first training stint at altitude than many would expect.
Matthew Centrowitz: After a sickness sidelined him from chasing records in 2014, Centrowitz took a shot at the 1000m U.S. record with his 2:17.00 world leading time. He's healthy, so look for him to feed off a home crowd.
Continue reading at: www.sportingnews.com