4 Minutes with a Miler - Jenny Simpson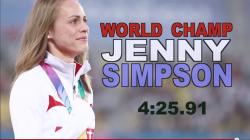 April 25, 2012
Bring Back the Mile's podcast series, 4 Minutes with a Miler, presents its second installment with 2011 World Champion and 4:25.91 Miler, Jenny Simpson, who is based in Colorado Springs and coached by Juli Benson. It is hosted by Duncan Larkin with the audio available below and through the iTunes store, in addition to the complete transcript below.
Complete Transcript
Greetings, and welcome back to Bring Back the Mile's latest installment of "Four Minutes with a Miler". Today, we are speaking with world champion Miler, Jenny Simpson. Jenny, welcome to the program and thank you for joining us.
Jenny Simpson: Thank you so much for having me.
First question, for you, Jenny, is what does the Mile mean to you in terms of significance?
Well the Mile has such a great legacy and has such great, rich history, going all the way back from when Roger Bannister was going for the four-minute mark along with many other people. That four-minute threshold began, in my mind, this rich history of people understanding the Mile. For me, as a competitor in the Mile, it's just so relatable to other people. I love when I go and race the Mile I can tell people my Mile PRs. People that don't really spectate track & field on a regular basis, they can really wrap their mind around the distance of a Mile compared to a 5K, a 10K, or even the steeplechase. They don't always understand how long that is. The Mile is really fun to talk about as an athlete competing in the event.
In 2009, you set the still-standing NCAA Indoor Mile record (4:25.91) When you look back on that incredible performance, what emotions do you still have?
Oh, that race itself was so loaded. Sally Kipyego is one of the greatest NCAA athletes of all-time across all sports. She had so many national championships and such a great career. That was the only race in college that I beat her. It was my senior year; it was the last time I was going to race her, and so there was a lot of other things in that Mile. It was the conference championships. There was huge school pride. It was just really exciting. The way that I ran it, from the gun, led it the whole way, I think that race in 2009 was kind of a breakthrough. It really catapulted me into a whole another level, mentally, with racing.
Who are your role models in the Mile?
Oh, man. I have had the incredible pleasure of knowing Jim Ryun and his family for a long time. When I made my first Olympic team in 2008, it was really incredible to have someone like that as a mentor—someone that really has experienced the running and racing scene at the highest level, even more popular than it is today. To have someone like that, and that was back when I was steeplechasing. But yeah, he [Ryun], did have all the weight, significance and understanding of the importance of the Mile. So he was able to kind of pass all of the significance, fun and joy of it down onto me. It reminds me at different points to kind of take it all in.
Looking forward, Jenny, do you have any plans to run a Mile before the Olympic Trials?
Probably not before the Olympic Trials. The only reason is because it's not a readily available event for outdoors. That's one of the things that is exciting about the potential of the Mile coming back and being more of a regular event. I feel like all the time, people ask me, "What's your fastest time in the Mile?" And I have to say, "Well I run the 15 and that's like 109 meters short of a Mile, but I run this time and it's probably around this time. There's just so much explaining to do. It would be really exciting to get out and compete against the best Milers in the country in a real Mile.
What are your career goals in the Mile? Do you still have unfinished business in the distance?
Absolutely, because my 1500m time is superior to the Mile. It would be really exciting to know that I can run that 1500m time and keep going for another 109 meters to see what kind of barriers I can break in the full Mile. It's a really exciting event. I have run it more in indoors than outdoors. When they offer the event, it's really exciting. You can always get good fields, because people want to do it. There are certainly different barriers with the Mile that I'm still excited exploring.
Well that's all the time we have for today's "Four Minutes with a Miler". Jenny, Bring Back the Mile would really like to thank you very much and wishes you the best of luck in the upcoming Olympic season.
Thank you so much. I really appreciate it.