50 Years Ago, Doris Brown Put U.S. Women's Distance Running on the Map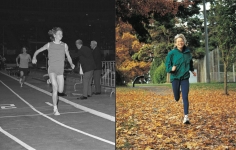 March 25, 2017
In March 1967, the indoor Mile world record holder became the first women's international cross country champion.
By Roger Robinson, Runner's World
One of America's greatest distance running talents had one major flaw: She was too fast for her time.
Up until 1967, the longest race for women that was contested in international competition was the Olympic 800 meters. That changed 50 years ago, on March 18, 1967, when the International Cross-Country Union added a 2.5-mile women's championship.
The winner was Doris Brown, now Doris Brown Heritage, who had to pay her own way to the race from Seattle to Barry, Wales.
Once she got there, she simply ran away from the field. She won by 37 seconds, an estimated 200 yards. With only one other American there, Patricia Cole, there was no team to score for.
The new championship—and its unknown American star—had a mixed reception.
Continue reading at: www.runnersworld.com