96-Year-Old Finishes His 16th Fifth Avenue Mile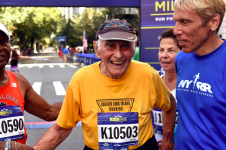 September 16, 2015
Bill Benson completed the one-Mile race through Manhattan for the 16th time. He's on a quest to run 1,000 lifetime races.
By Kit Fox, Runner's World
Competition at the Fifth Avenue Mile in New York City became a little tougher this year when the 70-year-old age group ran in Bill Benson's heat. Their younger legs pushed the pace, but "that's just the way it is," Benson said.
At 96, the Valley Stream, New York, native became the oldest person to complete the Fifth Avenue Mile in 2015. For his 16th year in a row, Benson ran the 20 blocks from the Metropolitan Museum of Art to the southeast corner of Central Park. He finished the race in 21:43.
"I think it's the most fascinating race there is, with all those people lining along Fifth Avenue to watch you race" Benson said. "It's a race that gets you close to the people."
Continue reading at: runnersworld.com