Miller, Kampf Win GNC Live Well Liberty Mile
August 17, 2012
Inaugural event in Pittsburgh brings out fast times, three sub-4 minute Miles and post-race festivities in Market Square
By David Monico, The Mile wire
PITTSBURGH, Pa. – (August 17, 2012) – With rain and thunder threatening to slow down the inaugural GNC Live Well Liberty Mile, sunshine and a windless evening welcomed those tackling Liberty Avenue in downtown Pittsburgh. Craig "Rowdy" Miller and Heather Kampf, both the reigning U.S. road Mile champions, claimed the professional titles and a $4000 cash prize to kick-off Friday night festivities in the Steel City.
The women got the elite races started just after 8:00pm as the downtown lights were coming on in Pittsburgh. Kampf, from Minneapolis, has had a stellar season earning the U.S. road crown in her hometown at the Medtronic TC 1 Mile in May. She proved to be the one to beat once again out kicking Team USA Minnesota teammate Gabriele Anderson and Sarah Bowman of Knoxville, Tenn. in the final stretch finishing in 4 minutes, 35.8 seconds.
"I won the U.S. road championship earlier this year and in my mind I knew I needed to defend my title and be the best Miler on the roads," stated Kampf.
While Kampf, 25, had the final burst of speed for the win, for most of the race it was Chemtai Rionotukei of Kenya leading the women through over three-quarters of a Mile. Rionotukei split 67 seconds for the first quarter and 2:19 through the half as the chase pack bided their time 10 meters back.
"We let her go and we were average coming through in 2:23 at the half-way point working together in the chase pack," commented Anderson who came into the race off a life-time best 4:27 Mile the previous weekend at Falmouth.
At three-quarters Rionotukei came through in 3:30 with Bowman, Anderson and Kampf closing fast. Bowman made the initial move, but it was covered quickly by Kampf. Anderson closed strongly in the final 100 meters to out lean Bowman for second place in 4:36.3 and 4:36.6 respectively.
"This was a world class event," stated Kampf. "I've never run a road Mile this late at night. It was a really cool atmosphere and the fans on the course were awesome."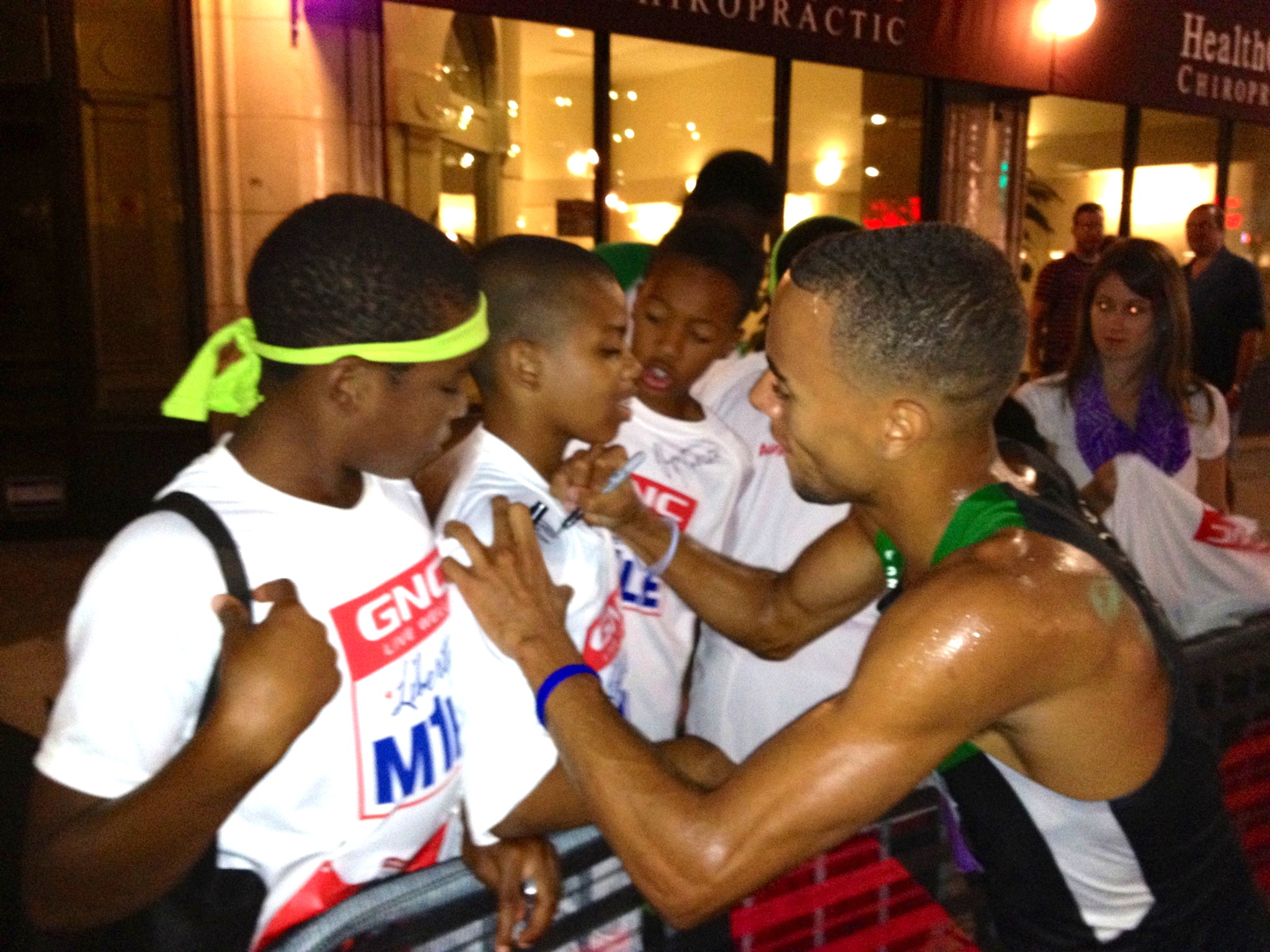 The men's race would prove equally exciting with Miller, a Madison, Wis. resident following-up Kampf in defending his road Mile prowess. He would take the Liberty Mile title in 3:58.4 after a late burst of speed in the final 50 meters, out-kicking Jordan McNamara (right) of Eugene, Ore. who crossed the line in 3:59.1. Also joining them under four minutes was Jeff See of Columbus, Ohio who finished in 3:59.8.
"It was a great race for the Americans on a beautiful night with the best runners you could get post-Olympics," stated Miller.
Tony Filipek led the field through 400 meters in 58 seconds and continued to lead the charge through the half-mile in 1:59. As the men made the bend on Liberty Avenue and into downtown Pittsburgh the field caught Filipek with Cory Leslie and See taking over. Three-quarters of a Mile at 3:00 put the field right at four-minute Mile pace.
McNamara, who prior to the race mentioned, "all I want to do is win," indeed put in what appeared to be the winning move with 250 meters to go. However, Miller, 25, wasn't done in the Steel City finding one final gear with 50 meters to go.
Miller after the race commented on the inaugural race comparing it to the other premier Miles in the United States, "it was a nice downhill, straight course similar to Fifth Avenue and the Minneapolis (TC Medtronic 1) Mile."
In the Masters division, a combined men's and women's race, it was former Pittsburgh resident Sonja Friend-Uhl, 41, who would run away with the overall title in a blazing 4:47. She would earn $500, while William Zink, 51, would take the men's title in 4:56.4.
Friend-Uhl commented, "it was a beautiful night to run and the weather was perfect. The race director did a great job with a smooth course that included a nice sweeping turn. I thought it would be great if it was a woman to cross the line first." On her time in Pittsburgh she stated, "once you've live in Pittsburgh, you're always a Pittsburgh person. I'm still a Steelers fan."
Patrice Matamoros, Race Director, reflected afterwards, "the inaugural running of the GNC Live Well Liberty Mile was a huge success featuring world class athletes running sub-4 minute Miles. It was great to come out in such a big way for our first year."
With more than 1,000 registrants there were more than 850 overall finishers in a great racing night in Pittsburgh. Participants and their families were then able to enjoy live music, food and drink in Market Square just a block from the finish.
Inaugural GNC Live Well Liberty Mile
Pittsburgh, PA, Friday, August 17, 2012
MEN
1) Craig Miller (WI), 3:58.4, $4000
2) Jordan McNamara (OR), 3:59.1, $2500
3) Jeff See (OH), 3:59.8, $1500
4) Christian Hesch (CA), 4:00.1, $800
5) AJ Acosta (CA), 4:00.9, $500
6) Donald Cowart (VA), 4:01.4, $325
7) Cory Leslie (OH), 4:02.4, $150
8) Abiyot Endale (ETH / NY), 4:02.8, $100
9) Daniel Clark (MI), 4:07.5, $75
WOMEN
1) Heather Kampf (MN), 4:35.8, $4000
2) Gabriele Anderson (MN), 4:36.3, $2500
3) Sarah Bowman (TN), 4:36.6, $1500
4) Kellyn Johnson (AZ), 4:39.8, $800
5) Karly Hamric (WV), 4:41.3, $500
6) Chemtai Rionotukae (KEN), 4:43.4, $325
7) Stephanie Charnigo (OH), 4:46.1, $150
8) Jamie Cheever (MN), 4:46.8, $100
9) Karaleigh Millhouse (PA), 4:49.3, $75
For deeper results, go to: runhigh.com