A Candid Interview with Gabriele Grunewald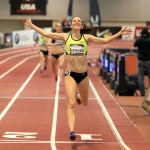 August 15, 2014
Cancer survivor and recent GNC Live Well Liberty Mile champion racing Falmouth Mile on Saturday, August 16
By Charlie Engle for Runner's World
Gabriele Grunewald has no trouble admitting that before being diagnosed with cancer at the age of 22, she had no realistic prospects as a professional runner. A second diagnosis at age 24 ought to have put the kibosh on any such dreams for good.
But the former standout mid-distance runner at Minnesota's Perham High School and the University of Minnesota, now 28, avows that those confrontations with death set her on a path to becoming a national champion in the 3000 meters.
Fate, however, denied her the chance to celebrate that milestone, achieved at the 2014 USA Indoor Track & Field Championships. After her win, the ugliest track controversy of the year unfolded. Heavyweight Nike coach Alberto Salazar protested her title, insisting she made illegal contact with his athlete Jordan Hasay. After his appeal was rejected, officials reviewed more video evidence and stripped Grunewald of her title. A unified athlete protest against the USATF's decision followed, as did, ultimately, a reinstatement of Grunewald as champion. (The USATF convened an internal investigation that led to a July report recommending changes to its rules for disqualifications and appeals.)
In June, she finished fifth in the 1500 meters at USA Outdoors and recently won the GNC Live Well Liberty Mile edging Team USA Minnesota teammate Heather Kampf in Pittsburgh,but is still mentally reeling from the Indoors debacle. But Grunewald has gritted her way through every storm, and now has her sights set on qualifying for the 2016 Olympic Team.
Continue reading at: www.runnersworld.com