Alexa Efraimson: The Teen Miler to Watch at USATF Championships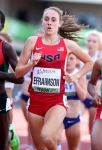 June 24, 2015
Eighteen-year-old pro is a contender for World Championships 1500 meter team.
By Peter Gambaccini, Runner's World
A teen who turned pro while in high school might make the U.S. 1500 meter team for August's World Championships in Beijing. But if it happens, the odds are that it will be 18-year-old Alexa Efraimson, not 19-year-old superstar Mary Cain.
Efraimson, from Camas, Washington, signed with Nike last August after her junior year of high school, thereby giving up her remaining prep and future college eligibility. She has prospered this spring, including a personal best of 4:03.39 for the 1500 at the Prefontaine Classic on May 31. That time also broke Cain's American Junior record. While Cain is experiencing the first slump of her career, Efraimson is on an upswing heading into the first round of the 1500 at the USA Outdoor Championships in Eugene, Oregon, on Friday. If she places in the top three in the final, she'll be on the U.S. team, just as Cain was two years ago.
Efraimson told Runner's World Newswire that she and her coach, Mike Hickey, had spoken about breaking Cain's record but, "going into that race, I had the slowest PR [in the field], so I just wanted to get in there and hope they would draft me to a fast time and I'd be able to hang on. But with 200 meters to go, I was still in the race."
Continue reading at: runnersworld.com