Anselm LeBourne, 55, Blasts Indoor Mile WR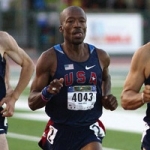 January 21, 2015
Marvelous Master crushes previous record and calls 4:37 Mile "outrageous".
By Marc Bloom for Running Times
Athlete: Anselm LeBourne
Age: 55
Residence: Maplewood, NJ
Career: College professor
Family: Married with two children
Club: Unaffiliated
PRs After 50:
800m = 1:59.33
1500m = 4:10
Anselm LeBourne, 55, of New Jersey, an international leader in Masters middle-distance running for 15 years, has gotten his 2015 season off to a fabulous start with two world indoor records in the 55–59 age-group. On Jan. 11, LeBourne ran 4:19.80 for 1500m at the USATF New Jersey Open and Masters meet in Toms River. Five days later, in the Gotham Cup at the New York Armory, he sped to a 4:37.08 Mile. In his two races, competing against men half his age, LeBourne placed second and fourth, respectively. A native of Trinidad & Tobago, LeBourne, who will turn 56 in April, has now set 11 world indoor and outdoor track records in various Masters age groups since 1999.
1500m Record: In his first indoor race since entering a new age group last April, LeBourne held form all the way to break the previous world indoor 55–59 record of 4:21.94, set in 2010 by Pierre Faucher of France. LeBourne's 1500m goal for 2015 is the 55–59 outdoor record of 4:12.35 set in 2011 by Keith Bateman of Australia.
Continue reading at: www.runningtimes.com