Anthony Whiteman: end of an era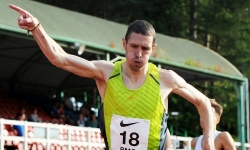 July 25, 2018
By Ruth Jones, FastRunning.com
When the multi-Olympian and veteran world record holder Anthony Whiteman called time on his illustrious running career this month, it marked the end of glittering career for the decorated Shaftesbury Barnet Harrier.
Whiteman holds the V40 and V45 800m world records and can count two Olympic Games, one senior and multiple masters World Championship titles as well as a European Championships and two Commonwealth Games on an athletics CV bursting with world class performances.
Although the 46-year-old is still impressively competitive on the domestic track and road running scene, and dominates the global 800m masters circuit with his record-breaking results, he hung up his spikes for the last time at a British Athletics League meeting at Bedford, following his final British Championships a week earlier.
The athletics stalwart released the following statement on his Facebook page on July 9: "That's all she wrote! As far as competitive track racing goes it's time to leave it alone!
"The plan was really just to attempt the sub4 @40 in 2012 (ED: he was the first man to run an outdoor sub-4 minute Mile as a V40 (Master), aged 40, when he ran 3:58.79 in 2012) but with that going well and finding myself still competitive at a decent level of competition it has carried on.
"Running in the Olympic Trials finals, the British Champs finals and at the sharp end of the British middle distance scene has kept my fires burning.
"With the prospect of those type of races being beyond me and the knowledge that the Masters scene simply does not motivate me enough, leads me to draw a line and find competition elsewhere."
While most top level club runners would dearly love to be able to run the sorts of times Whiteman has continued to achieve well into his forties – this year, he clocked a 1:53.05 800m and a 4:31 road Mile – it's important to remember what times the Hull-based athlete was running at his peak.
Continue reading at: fastrunning.com