Arnold neighborhood where Centrowitz grew up continues to cheer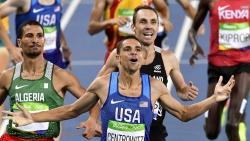 August 22, 2016
"Everybody was jumping up and down, and just so thrilled. It was just amazing."
By Megan Brockett and Bill Wagner, Capital Gazette
In the Hunter's Pointe neighborhood of Arnold, just off College Parkway, red, white and blue "Centro Nation" signs dot the front yards of several houses.
The signs were there four years ago, when Matthew Centrowitz, a Broadneck High School graduate who grew up in the neighborhood, finished just shy of a medal in the 1500 meter run at the London Olympics.
On Sunday, a day after Centrowitz became the first American to win gold in the event in more than 100 years, the folks who put up those signs were celebrating.
"It's just unbelievable," said Denise Hoffman, who lives a short walk from the Centrowitz home. "It really is."
Continue reading at: www.capitalgazette.com