ASU Miler Bernie Montoya back after career-threatening heart scare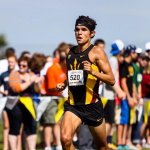 September 24, 2015
The 2012 adidas High School Dream Mile champ (4:01.32) ran unattached last Friday at the Dave Murray Invitational in Tucson and placed third overall with a time of 21:44.00 on the 4.25 mile course.
By Jeff Metcalfe, AZ Central
Bernie Montoya is running in a race Friday for the first time in 10 months.
In between, one of Arizona State's most high profile track / cross country recruits was told by doctors at the Mayo Clinic in Scottsdale that due to a heart disease called hypertrophic cardiomyopathy, he would need to stop competitive running and have a defibrillator installed to protect against a heart attack like what killed Loyola Marymount basketball star Hank Gathers in 1990.
Just days after his 20th birthday in December, while at home in Yuma for the holidays, Montoya was tossing a football with friends when he felt dizzy and blacked out.
"They knew I had an enlarged heart, but the thing that threw everything off (was) scar tissue in the heart," he said of an MRI finding at Mayo. "It was a shocker. One moment, you've had a good career, I've been healthy, then all of a sudden your life changes in an instant."
Continue reading at: azcentral.com