At Penn Relays, Cain more than able in girls' high school Mile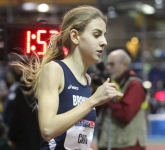 April 28, 2012
By Ted Silary, Phillynews.com
PHILADELPHIA - Mary Cain has heard the story umpteen times. Oops, let's make that umpteen-and-one.
The latest retelling occurred Thursday as Cain, with her father doing the driving, rode from Bronxville, N.Y., a New York City suburb, to Franklin Field to compete in the 118th Penn Relays.
Fifty-seven years ago, her grandpop could have been part of a title-winning high school relay team in that very same stadium.

"There was a little controversy with his race," Cain said. "His team technically won, but the anchor man stepped under the finish line instead of breaking it, so the other team got first place."

While waiting to accept her watch, and then again as she posed on the victory stand, Cain's face displayed nothing but a mega-kilowatt smile and she kept adding countless thumbs-ups.
The 5-6, 105-pound Cain not only won the event. Her time of 4:39.28 broke a 4-year-old meet record by 2-odd seconds and even came within just over four ticks of the national mark. Imagine if she had not slowed down for maybe the last 10 steps.
Ah, long simmering family frustration. In part, that probably explains why Cain, who attends Bronxville High, was so joyous for so long early in the evening after winning the scholastic version of the girls' Mile run.

Continue reading at www.phillynews.com