Billings' Christina Aragon punches ticket to Olympic Trials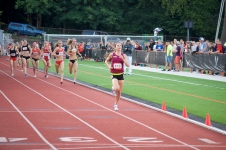 June 14, 2016
"Honestly, I'm just really excited for that whole experience. If I could get out of the first heat that would be awesome."
By Lindsay Ross Miller, The Gazette
Christina Aragon rewrote the middle distance records in Montana over her four years at Billings Senior, but after graduation she set her sights higher with the Olympic Trials.
Aragon traveled to the Portland Track Festival Sunday to jump into a 1500 meter race in hopes of qualifying for the Olympic Trials in just a few weeks. This was her best chance of running the required standard to compete of 4 minutes, 9.5 seconds.
On Sunday, Aragon punched her ticket to Eugene, Ore., when she ran 4:09.27, the fastest time by a high schooler this year, to qualify for the Olympic Trials.
Continue reading at: billingsgazette.com