Bor Takes Front Street Glory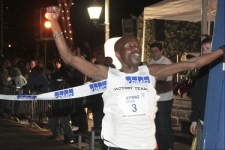 January 19, 2013
By Stephen Wright, The Royal Gazette
Kenyan Julius Bor stole the show in last night's elite men's race with an impressive victory in his first ever KPMG Bermuda Invitational Mile.
The debutant didn't quite manage to break the magical four-minute barrier and claim the $10,000 bonus on offer finishing in 4:06.45 ahead of fellow sub-four minute Milers Stephen Pifer, of the USA, (4:07.67) and Zambia's Jordan Chipangma (4:09.52.)
But despite clocking the quickest elite men's time in recent memory, Bor, whose brother Emmanuel came eighth, admitted he was slightly disappointed he didn't run even faster.
"I thought I was going to run under four minutes and was confident of a fast time," said the former University of Alabama student. "But coming back (at the half-way stage) I saw it was 2.04 and then I just came for a win.
Continue reading at: royalgazette.com