Brenda Martinez's Solo Act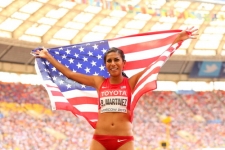 December 03, 2013
2013 World Championships 800m bronze medalist and sub-4:25 Miler discusses post-collegiate career and working with legendary coach Joe Vigil
By Erin Strout for Running Times
A royal blue velvet box sits unassumingly on the coffee table. It's about the size of a postcard, and it's no different than a coaster, coffee mug or magazine that ends up in the living room's central location. The coffee table is, of course, where things end up that don't have any other place to go. Inside that box is something no other American woman has ever owned, until now.
Attached to the orange ribbon folded underneath is a world championship bronze medal, awarded in August at Moscow's Luzhniki Stadium to Brenda Martinez for her third-place finish in the 800m, which she ran in a personal-best time of 1:57.91. She is the first American woman to ever place in the top three in this event at the World Championships.
But Martinez wasn't really banking on bringing any precious metal home to Big Bear, Calif. At age 25 (now 26), after a struggle to find her way on the pro side of the sport, she was grateful to make the team and was committed to performing her best. The podium, though? It was neither an assumption nor a given.
Continue reading at: www.runningtimes.com