Cain "Excited to See What I Can Do" in NYRR Wanamaker Mile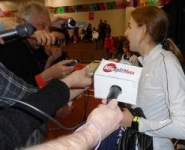 February 04, 2013
By Barbara Huebner, NYRR News Service
It didn't take Mary Cain long to start looking ahead to the NYRR Wanamaker Mile.
"I know there's going to be a lot of good competition," said Cain on Saturday night, soon after obliterating the U.S. high school indoor record for two Miles at the New Balance Indoor Grand Prix in Boston. "I'm just excited to see what I can do if I really run hard. [Since] my last Mile we've done a lot of working on getting better at my starts and my race plan."
Standing nearby, Cain's coach, Alberto Salazar, called the shorter distance "her sweet spot."
In that previous Mile, Cain broke the 41-year-old record U.S. high school indoor Mile record when she ran 4:32.78 at the New Balance Games.
Continue reading at: nyrr.org