Cain's Amazing Year Ends with 10th at Worlds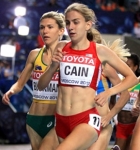 August 16, 2013
Teen phenom already looking forward to the 2015 world meet
By Mary Nicole Nazzaro, Runner's World
It's way too early to compare U.S. phenom Mary Cain to, say, any other famous American middle-distance runners named Mary. Her name is Cain, not Decker Slaney, and she's 17-years-old and just had the time of her life running the World Championships 1500 meter final in Moscow, so let's let her be 17 for just a moment, shall we?

 


Because the future looks very, very bright indeed.

 


The youngest member of the U.S. team here in Moscow, the youngest to ever contest the World Championships women's 1500m final, Cain (above, PhotoRun) ran this evening in Moscow to a tenth-place finish in 4 minutes, 7.19 seconds after running at the shoulder of her teammate, the early race leader and eventual silver medalist Jenny Simpson.




"I was running to win!" Cain said afterwards. "That's crazy, I know."

 


After a World Championships of often-stifling heat, the weather this evening at Luzhniki Stadium was perfect for a fast race. As expected, the race came down to defending world champion Simpson and 2013 world leader Abeba Aregawi of Sweden. Simpson held the lead for much of the first three laps and then stayed on Aregawi's shoulder before fading just slightly. A furious kick down the final stretch brought Simpson to within 0.32 seconds. Cain was briefly in last place before rallying to pick off Elena Korobkina of Russia and Siham Hilali of Morocco.




Just don't tell them that they were beaten by a 17-year-old.

 


Cain thus ends her 2013 season on a high note with her first senior World Championships experience. Since last year's World Junior Championship in Barcelona, where she placed sixth in a then-personal best 4:11.01, Cain has set a slew of national high school and Junior records. That led to the U.S. national championships, where she placed a stunning second behind a last-gasp surge from Treniere Moser, after leading for much of the last lap. 




Conventional wisdom said that Cain had already accomplished a season of dreams. Moscow would just be the icing on a very, very good cake. Just getting here to Sunday's heats were enough. No pressure.


Continue reading at: www.runnersworld.com