Career day for the Coogans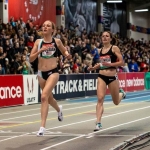 February 02, 2020
Katrina '11, Margaret '17 and Will '20 all turn in career-best performances on the track within hours of each other.
By Brian Muldoon, Exeter Today
It is not unusual for a member of the Coogan family to have a strong performance on the track; Katrina '11, Margaret '17 and Will '20 have collected plenty of accolades throughout their respective running careers and have put in a lot of work to expect a high level of success. But the trio all turning in career-best performances on the same day was unprecedented. Until now.
Each of the siblings set personal records in their respective races on Saturday, January 25. Margaret, who turned in a spectacular prep career Exeter and is now a star at George Washington University, broke the 5 minute mark and set a new PR of 4:59 in the Mile at the George Mason Invitational.
Katrina, who was an 11-time All-American and two-time NCAA champion at Georgetown before continuing her running career professionally with Team New Balance Boston, placed fourth overall in a stacked field in the 2 Mile at the New Balance Indoor Grand Prix with a time of 9:36.52 (photo above).
Meanwhile at the same meet, William earned a second-place finish in a field of the top high school Milers in the country with a personal record time of 4:14.93.
"It was really cool thing," said Will, who recently committed to the University of North Carolina cross country and track program. "We were all texting each other good luck earlier in the day. I found out Margaret ran a PR earlier in the day so I was really happy for her. She's having a really great year and running really well. It motivates you to run well, too."
Many parents might be squirming in their seats watching their kids perform on a national stage, but Mark & Gwyn Coogan '83 — each a U.S. Olympian — are just happy to see their kids doing what they love.
"To me, the success part of what they are doing is pursuing their passions and mostly ignoring the pressure to achieve more conservative forms of success," noted Gwyn, who is The Smith Family Instructor in Mathematics. "I have a lot of excitement when they run. I trust my kids to give all they can, to learn from whatever happens and to be gracious competitors."
"If they are happy and enjoying the running and racing, I am also happy," added Mark, who is the coach of Katrina's team at New Balance Boston. "I think that I have taught them that the world will not change if you have a good or bad race. You just go out there and do your best, give yourself a shot. You try to crush everyone when you race, but you need to be a good person once the competition is over."
Continue reading at: exeter.edu