Carlton County girls make strong showing at Minnesota Mile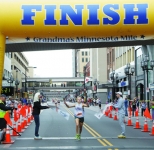 September 12, 2013
Annual September road race in Duluth also saw fast Miles by the professionals with course records by Ben Blankenship (3:52.7) and Gabriele Anderson (4:21.3)
By Jana Peterson, Pine Journal
Last Sunday was a good day for Carlton County girls to run in Duluth.
Esko's Kailee Kiminski took first place in the women's Duluth Mile race (photo, above), coming in at 5 minutes, 22 seconds, according to the Grandma's Marathon website. (Dad Dan Kiminski says the exact time was 5:21.9).
Kiminski, 17, crossed the finish line well ahead of her nearest competitors, taking first place for women (of all ages) in the Duluth Mile and for her 18-and-under female age group. Kiminski is a junior at Esko High School, where she is a multi-sport athlete, running cross country and playing soccer in the fall.
Another Carlton County runner, Anja Maijala, took second place in the Mile-long race, coming in nine seconds behind Kiminski, 5:31. Maijala, 14, is a freshman at Cloquet High School, where she participates in cross country, Nordic skiing and track.
Kiminski and Maijala ran in the Duluth Mile race for semi-elite runners, rather than the Minnesota Mile, which is for professional runners and offered $3000 for both the men's and women's race champion. The Minnesota Mile was also the final stop of the 14-event Bring Back the Mile Tour 2013.
Continue reading at: www.pinejournal.com