Catching Up with Shannon Rowbury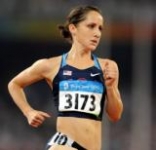 April 24, 2013
By Scott Bush, Runnerspace
For the past six years, Shannon Rowbury has defined herself in the sport as a one of the most consistent elite 1500m runners, exceling at running rounds and running incredibly smart tactics. Her top level fitness and race smarts have led to three U.S. outdoor 1500m titles, two Olympic teams and a World Championship bronze medal.
We caught up with Rowbury this week, as she prepares for the Drake Relays. As she kicks off her 2013 season, Rowbury discusses her rough race at Carlsbad, her most recent training and whether or not she's planning to move up to the 5K anytime soon.
Scott Bush (SB): You've been pretty quiet so far this season. How has training been going for you? Can you speak a bit about your training set-up in Mexico?
Shannon Rowbury (SR): Things have been going well. Coach Cook gave me a long break at the end of last season, since it was the end of an Olympic cycle (hard to believe!), so I got a little later start to training than usual.
Continue reading at: runnerspace.com