Catching up with Steve Scott: Master of the Sub-4 Mile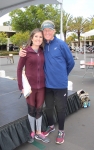 March 31, 2020
"I believe one of the keys to my later success was that I wasn't pushed in high school."
By Steve Brand, MileSplit CA
Steve Scott is America's greatest Miler. Not the fastest anymore, but the greatest.
Consider that in his running career, which didn't really take off until he was a sophomore at UC Irvine, he recorded 137 sub-4 minute Mile times overall. He had as many as 19 in one calendar year and a mind-boggling two within 14 hours.
"No one will ever break that record -- that record of 137 is safe," Scott said. "No one is stupid enough to run as often as I did.
"I used to run 10-12 indoor meets and then run just as many outdoors in the U.S. and Europe. I ran a sub-4 minute Mile at the Sunkist Invitational in Los Angeles, caught a plane to the Houston Astrodome where, to make the Wide World of Sports, they started the race early at noon.
"I still ran sub-4, beating Don Paige. I thought I was bulletproof."
The Steve Scott story is unique in that although he was a 1:52 half-miler and 4:15 Miler at Upland High, where he placed fourth in the California in the 800, he never was really pushed until he decided to run for Len Miller at UC Irvine.
On his team were runners like Brian Hunsaker (Corona del Mar), Don Moses (Crescenta Valley) and Ralph Serna (Loara).
"I griped about Len when I went there but I couldn't have gone anywhere else and been as successful," said Scott, 63. "Those other guys were used to running 10 to 20 miles a day, but not me. I was finally mature enough to handle that kind of work and I grew to love running.
"I believe one of the keys to my later success was that I wasn't pushed in high school.
"Guys like Eric Hulst, Alan Webb and German Fernandez worked their bodies really hard when they were young, but I believe they paid a price physically and mentally. I went 15 years without an injury because my high school stressed quality, not quantity."
Continue reading at: ca.milesplit.com