Celebrating the 60th Anniversary of Diane Leather Breaking the 5 Minute Mile Barrier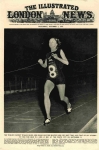 May 29, 2014
By Peter John L. Thompson
This article has been published in its entiriety with the author's permission. It was initially published by the Canadian Athletics Coaching Center on their members blog.
Many of you reading this blog are aware of the the 60th anniversary of breaking the four-minute barrier for the Mile earlier this month. On May 6th, 1954 Roger Bannister ran the Mile in 3:59.4, a time that was previously thought physiologically and mentally beyond the scope of man.
Later in May 1954, the world Mile record was again under assault in England. But this was not Iffley Road, Oxford. This was the Perry Barr Stadium, Birmingham and the Midland Championships on May 29th. The runners were assembled on a rain-soaked cinder track at the start of the Mile race knowing that one of their number was to attempt to break the world record that day. They were also aware that this athlete had won the Championships 880 yards just 45 minutes earlier, establishing a British Record.
Brought to the start line, the report of the Starter's gun echoed around the stadium like a whip crack, reminding those assembled, athletes and spectators alike, of the purpose for their meeting. As the runners set off, it took only a couple of hundred yards before a tall, elegant runner moved fluidly to the front of the field and assumed an ever-increasing lead, "the game was afoot" and Diane Leather had once again placed the world Mile record under threat.
Not for this athlete the company of opponents or pacemakers. Diane Leather was simply miles ahead in terms of her development and potential and raced with the wisdom of that potential. As the laps passed by, her pace carried her far away from the field so that the crowd, through the announcer, became increasingly aware that the 5-minute barrier for the Mile was achievable. By the end of the Mile, Diane was 160 yards ahead of the second place finisher, and broke the tape in a time of 4:59.6, becoming the first female runner to complete a Mile in under 5 minutes. This barrier was broken just 23 days after Roger Bannister had broken the 4-minute barrier in Oxford.
Diane Leather is probably the best British athlete you may never have heard of. And, if you have heard of her, you may not be fully aware of just how great was her talent and achievement over such a range of distances. Her relatively brief career saw her equal the world best for 440 yards and set world best performances for 1500m (twice and was the first woman to run under 4:30.0) and the Mile (on five occasions). At that time, these performances were all classified as world best performances, rather than world records, as the only women's individual middle distances recognised by the IAAF were the 800m and 880 yards and Diane held the world record for 800m. Add to these achievements, the fact she also won the England National Cross Country Championships for four consecutive years from 1953 to 1956. We can think of many athletes who have a great range of distances but what other athlete can claim such truly world-record level performances from 400m to Cross Country?
Diane Leather took up running at the relatively late age of 19, after leaving school and being inspired to run by watching the 1952 Helsinki Olympic Games. In the Fall of 1952 she joined Birchfield Harriers, where she was coached by Dorette Nelson-Neal and immediately impressed as a versatile runner, winning the Midland Cross Country Championships and then the England National Cross Country Junior and Senior titles in her first winter with the club. Then over a two-year time period from 1953-1955, Diane improved the women's world best for the Mile on five occasions and by a total of 23 seconds, taking it from 5:08.0 to 4:45.0, a time that remained unbroken for 7 years.
She finally gained her opportunity to run at the Olympic Games in Rome in 1960, as Mrs. Diane Charles, but she was eliminated in the first round, finishing fifth in her heat in 2:14.24. Her glory years had gone, and had records been different, she would have had more 'officially' than most all others in British athletics history. In a more enlightened era, her name would have been prominent among the world record holders and, probably, as an Olympic Gold medallist.
A current author takes the view, "If a man had done such things, his name would be revered." But Diane Charles, herself, revokes this notion. In response to a BBC interviewer's question in 2004, "Have you ever felt that you should have had as much attention paid to you as he (Roger Bannister) has had?" she emphasised, "At the time I did get a lot of attention from people in athletics who knew what it meant and from the press at the time. It was different. I don't know that you could compare it, except that it was a barrier, 5 minutes. Lots of men had been chasing the 4-minute barrier. I don't think it was the same for the women and they also had pacemakers, or people who were equally as well with them."
Yes, it was different for Diane Leather Charles. She set herself goals far beyond the reach and company of her peers and achieved them. Today, the women's world record for the Mile stands at 4:12.56 set in 1996 by Russia's Svetlana Masterkova. Who among the women today dares to challenge the 4-minute barrier – it will come to pass, as Diane Leather has already proven, barriers are there to be broken.
About the Author
Peter John L. Thompson is a British coach who has coached athletes to world record performances. He worked for the International Association of Athletics Federations over a twenty-year period, most recently as a Senior Manager and Global Leader for Running. He has coached all the disciplines of Athletics but since 1978 has concentrated on the middle and long distance events where he innovated the New Interval Training method. He lives and coaches in Eugene, Oregon. See more at www.newintervaltraining.com.