Celebrating the life of Sir Roger Bannister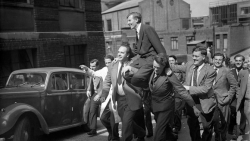 September 11, 2018
Friends and colleagues, including Steve Cram, came together to celebrate the Imperial alumnus, esteemed neurologist and runner of the first sub-4 minute Mile.
By Joanna Wilson, Imperial News
At the event, which took place at the Royal College of Physicians, recollections of the medical life and works of Sir Roger Bannister were given by his friends and colleagues.
Born in Harrow in 1929, Sir Roger was renowned for being the first person to run a Mile in under 4 minutes in 1954, while training as a junior doctor.
He studied medicine at the University of Oxford before attending St. Mary's Medical School, now part of Imperial College London.
Professor Jonathan Weber, Dean of Imperial College London's Faculty of Medicine, said: "In 1954, Roger Bannister became arguably the most famous medical student in the world, probably the most famous medical student there's ever been."
Professor Weber recalled working with Sir Roger on two occasions – the first as a junior doctor at St. Mary's Hospital during the AIDs epidemic, the second twenty years later when he was tasked with refurbishing the former medical school building at St. Mary's and Sir Roger chaired the St. Mary's Development Trust.
Continue reading, includes tribute photos, at: imperial.ac.uk