Centrowitz, Rowbury Win Camel City Mile Titles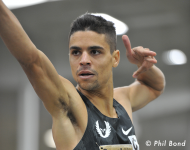 January 30, 2016
North Carolina state record for Centrowitz; Rowbury defends; world-leading times for both champions; Bring Back the Mile Grand Prix Tour 2016 kicks off at JDL Fast Track
By David Monico, Bring Back the Mile
WINSTON-SALEM, N.C. – With 2,500-plus rabid fans in attendance at the JDL Fast Track in Winston Salem, the facility once again proved that this flat track is fast! At the 4th Camel City Elite Mile races, two-time Olympian Shannon Rowbury defended her title with a comfortable 4:26.01, while fellow Nike Oregon Project teammate and 2012 Olympian Matthew Centrowitz overcame the hard charging defending champion, Cory Leslie of Nike / Furman Elite, breaking the beam in 3:54.02 to smash the facility and North Carolina state records.
The Women's Mellow Mile presented by Mellow Mushroom Winston-Salem was once again paced by ASICS' Melissa Salerno who led Rowbury and New Balance's Stephania Garcia through halfway at 2:12.59, while Canada's Fiona Benson, ASICS / Furman Elite's Heidi See, Lauren Johnson and ASICS / Team USA Minnesota's Heather Kampf comprised the chase pack 20 to 30 meters behind.
It would remain a two-way battle between Rowbury and Garcia throughout the race with the defending champ looking comfortably in control from start-to-finish. Rowbury, 31, would ultimately pull away from Garcia with a lap and half to go, defending her title and setting a 2016 world leading 4:26.01. It marks the second year in a row for Rowbury to set the tone for the season as the one to beat in the U.S.
High school rising star Kate Murphy (Virgina) finished 8th in 4:43.87.
"I'm just really excited to be back here at JDL and come home with another win. The crowd was amazing outside and inside the track so it was a really fun night. This year we are still in a heavy training phase we are going to have another few weeks until we start tapering for USA's and Worlds but I wanted to see how tough I could be and push myself to have a good show for the fans," said Rowbury post-race.
In the Men's Camel City Mile presented by Champion, Leslie, the two-time Camel City Elite Mile champion who bested Olympic silver medalist Leo Manzano in 2015, returned to battle Centrowitz, a two-time World Championship 1500 meter medalist. Saucony's Donnie Cowart took on pacing duties coming through a quarter mile in 59 seconds, followed by Centro and Leslie. In the chase pack, Brandon Hudgins would lead a group of collegiates aiming for the coveted sub-4 minute Mile.
Having set-up another fast race, Cowart stepped off the track just after the halfway mark in 1:57.89 and in similar fashion to the women's race, a two-way battle between Centrowitz and Leslie would ensue over the final four laps. With a quarter mile to go, Leslie would make a couple of attempts at pushing the pace to overtake Centrowitz, but the 2015 USA 1500m champion would matched every move.
It would prove to be Centrowitz' day as he found another gear over the last 150 meters, pulling away from Leslie for good and crossing the line in 3:54.02. Having broken Leslie's 2015 North Carolina and facility records, the 26-year-old gave the crowd a winning Cam Newton-esque "dab". Leslie would finish in 3:56.25, also under his old facility record. Centrowitz' and Leslie's marks also lead the world this year.
"I didn't really know I would run 3:54 today, but Shannon showed that you can win fast here and I wanted to set myself up for that. The rabbit did a great job and hats off to Cory, he was on me the whole way and pushed me to get that fast time," said Centrowitz. As for the dab move, he continued: "when I came to Carolina, Cam (Newton) gave me a call and said that I had better do [the dab] leading up to the Super Bowl; so I think we all know who I am rooting for."
The Camel City Elite Mile was also the first stop on the Bring Back the Mile Grand Prix Tour 2016 featuring five top U.S. Mile events, with more than $100,000 in prize money overall.
4th Camel City Elite Mile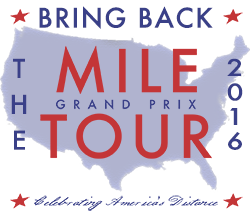 Bring Back the Mile Grand Prix Tour 2016: First Stop
Winston-Salem, NC, Saturday, January 30, 2016
Women's Camel City Mile presented by Mellow Mushroom Winston-Salem
1) Shannon Rowbury (Nike Oregon Project), 4:26.01, $5000#
2) Stephanie Garcia (New Balance), 4:28.47, $2000
3) Heidi See (AUS / ASICS / Furman Elite), 4:33.30, $1000
4) Heather Kampf (ASICS / Team USA Minnesota), 4:36.08, $500
5) Fiona Benson (CAN / Nike), 4:38.18
6) Lauren Johnson (OR), 4:38.38
7) Megan Moye (NC), 4:43.08
8) Kate Murphy (VA), 4:43.87
Melissa Salerno (NY), DNF (rabbit)
#includes $1000 sub-4:30 bonus
Men's Camel City Mile presented by Champion
1) Matthew Centrowitz (Nike Oregon Project), 3:54.02, $5000*#
2) Cory Leslie (Nike / Furman Elite), 3:56.25, $2000
3) Graham Crawford (North Carolina St.), 4:02.72 (NCAA)
4) Brandon Hudgins (unattached), 4:06.88, $500
5) Simon Holden (Wake Forest), 4:10.95
6) Csaba Matko (HUN / Eastern Michigan), 4:11.85
7) Grant Pollock (VT Elite), 4:13.52
Donnie Cowart (NC), DNF (rabbit)
*Facility, event and absolute North Carolina state records (previous facility, event and overall state records, 3:56.99, Cory Leslie (USA / SC), 2015)
#includes $1000 facility record bonus
Complete results at: http://jdl.liveresults.io/tf/camel-city-invitational