Centrowitz's chase for gold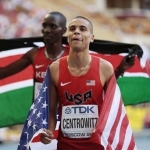 February 18, 2015
"His ambition is no longer just to be the best in the country. He wants to be the best in the world." - Bernard Lagat
By Nick Zaccardi, NBC OlympicTalk
Bernard Lagat, the U.S. 1500m record holder and, at different points, a rival of icons Hicham El Guerrouj, Kenenisa Bekele and Mo Farah, recently chatted with the man chasing not only his own American records but also today's great middle-distance runners from Lagat's birth nation of Kenya.
That man is Matthew Centrowitz, who is 25-years-old and 15 years younger than Lagat.
"I told him," Lagat said, "You can actually pull this together. This year is yours."
Centrowitz, the son of two-time Olympian Matt Centrowitz, in the 1500m finished third at the 2011 World Championships, fourth at the 2012 Olympics and second at the 2013 World Championships. He missed three gold medals by a combined 1.98 seconds.
There were no major championships in 2014, but Centrowitz is planning the new calendar around the World Championships in Beijing in August.
The man with CITIUS tattooed on his right shoulder blade has been quite fast on the track and quick-witted off of it this indoor season.
Continue reading at: http://olympictalk.nbcsports.com