Childhood obesity crisis in UK could be overcome – thanks to the Daily Mile plan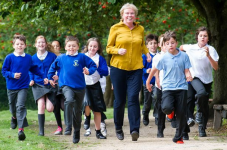 October 05, 2015
Primary head Elaine Wyllie devised the Daily Mile scheme, where pupils run or walk a Mile every day, and virtually eliminated obesity at her school
By Georgina Stubbs, The Mirror
Britain is in the grip of a childhood obesity crisis, with more than a third overweight by the time they leave primary school, according to latest NHS figures.
But in one primary school in Stirling, a head teacher has launched an extraordinary fightback, with a brilliantly simple idea that has transformed the lives of her pupils.
After hearing that children were exhausted by just the warm-up before their weekly PE lesson at St. Ninian's Primary, Teacher of the Year Elaine Wyllie decided to take action, starting with a fitness test.
Elaine, 59, took one class out to the field, and asked them to run around the path that borders it. Many could only manage one lap.
But Elaine was not put off, and decided to trial her new Daily Mile exercise regime for a month.
"By the end of February 2012, the children were transformed," she says.
Continue reading at: mirror.co.uk