Colleen Quigley to Defend Women's NYRR Wanamaker Mile Title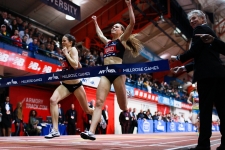 January 24, 2019
Two-time world indoor champion Yomif Kejelcha of Ethiopia also joins stacked men's Wanamaker Mile field; live broadcast Saturday, February 9 on NBC
From NYRR
NEW YORK — U.S. Olympian Colleen Quigley will return to The Armory's New Balance Track & Field Center on Saturday, February 9 to defend her NYRR Wanamaker Mile title at the NYRR Millrose Games. The signature event at the NYRR Millrose Games will feature seven Olympians and 13 world championship participants, including the recent addition to the men's field of Ethiopia's two-time indoor world champion Yomif Kejelcha.
"We are delighted to welcome Colleen back to the NYRR Millrose Games after her sensational win last year," said 112th Millrose Games Meet Director Ray Flynn. "The addition of Yomif to this incredible men's field makes me think we could possibly see the very first sub-3.50 Wanamaker Mile or even a run at the world record."
The prestigious indoor Mile race has taken place every year on the men's side since 1926 and on the women's side since 1976. This year's NYRR Wanamaker Mile races will be broadcast live on NBC.
Quigley, 26, won her first NYRR Wanamaker Mile in 2018, besting fellow U.S. Olympian Kate Grace by just three hundredths of a second in 4:30.05, and then returned to New York later in the year to finish second at the New Balance 5th Avenue Mile. She competed at the Rio 2016 Olympics, finishing eighth in the 3000 meter steeplechase, and the following summer she placed third in the event at the USATF Championships.
"What better way to start a new year and a new season than taking a trip to NYC to race at one of the most prestigious and longest-running indoor track meets in the country," Quigley said. "I can't think of anything better, so I'm going to the NYRR Millrose Games again this year to defend my NYRR Wanamaker Mile title. I'm more excited than ever to put my fitness to the test in the Big Apple."
Joining Quigley in the women's NYRR Wanamaker Mile field will be last year's runner-up, U.S. Olympian Kate Grace, along with 2017 NCAA indoor Mile champion Karisa Nelson, 2018 USA Road Mile & two-time Bring Back the Mile Grand Prix Tour champion Emily Lipari and new indoor NCAA 1000 meter record holder Danae Rivers.
Kejelcha, the two-time defending 3000m indoor world champion who opened his 2019 season with a 3:52.61 Mile at the University of Washington earlier this month, will join a men's field that already includes Olympic medalists Clayton Murphy and Nick Willis, and last year's world's fastest Miler Edward Cheserek. Last year's runner-up, Josh Kerr, will also line up, as well as Rio Olympian Robby Andrews, who will be marking the 10th anniversary of his win in the high school Mile at the Millrose Games.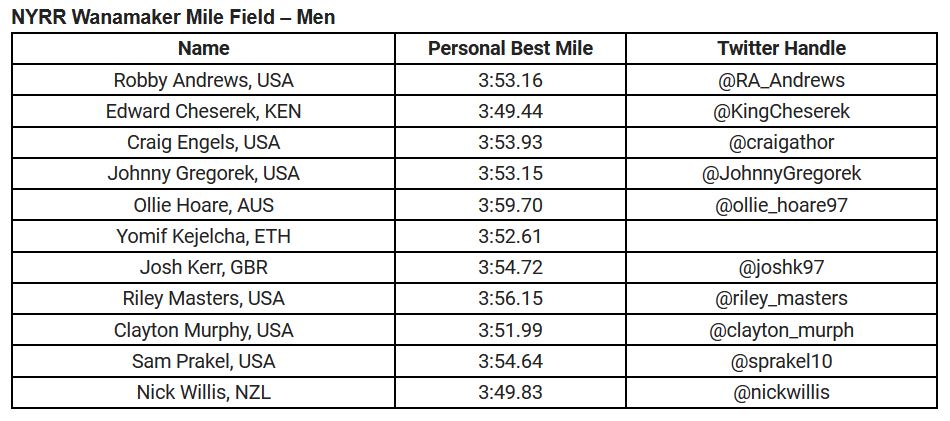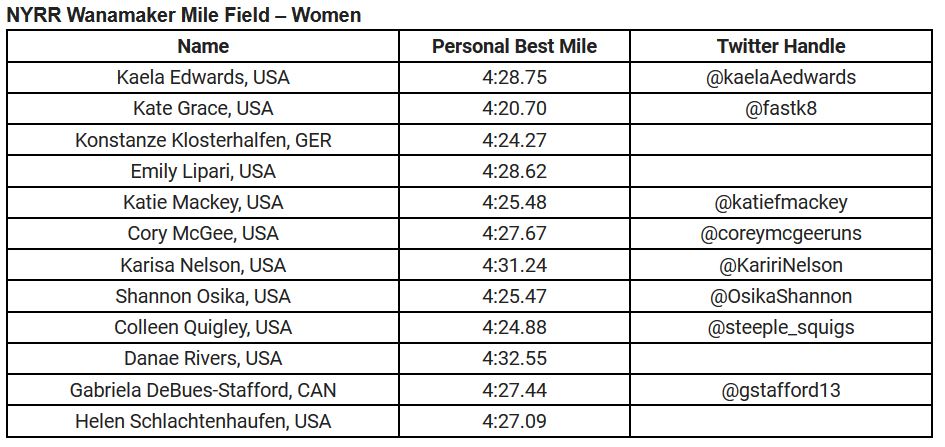 The NYRR Millrose Games highlights the year-round partnership between The Armory Foundation, which oversees the premier indoor track & field center in America, and New York Road Runners, the world's largest community running organization.
For more information or to purchase tickets, go to: nyrrmillrosegames.org