Cornell alumna Morgan Uceny nears qualifying to compete in the London Olympics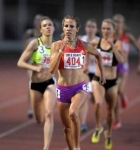 June 26, 2012
Would be the first Cornell female track athlete in Olympics
By Ed Boulat, The Ithaca Journal
ITHACA, N.Y. - From the plains of Indiana to the hills of Ithaca, to the biggest stages in world athletics.
Morgan Uceny's life journey has been quite an incredible one. At a quick glance, it's a mixture of undeniable dedication and the strange twists and turns fate so often has prepared for us.
Uceny's story, however, is far from being over. On the contrary, it's just getting started.
Continue reading at theithacajournal.com