Coghlan's Run at Sports Arena Still a Huge Thrill 31 Years Later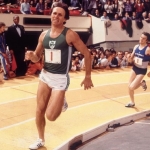 February 24, 2012
But, for me, nothing tops the night of Coghlan's Mile on the Sports Arena boards during the Jack-in-the-Box Indoor Games.
By Nick Canepa, San Diego Union Tribune
It was 31 years ago this week when Eamonn Coghlan became an Irish storm, when he ran beyond the hype … by a Mile.
Magic was done on the Sports Arena boards on Feb. 20, 1981, and if you were there and didn't hear the thunder and weren't blinded by the lightning, if your palms weren't wet and goose bumps jumping, you were not of this earth. As it was, on that night, this son of Ireland seemed all alone on it.
I've been on this newspaper for 40 years, which accounts for so many memories being stored, some put away back in the stacks, a few closer to the window. But when I'm asked to name my greatest sporting moment on San Diego turf, I don't have to rifle through my card catalog.
Continue reading at: www.utsandiego.com