Dalquist, Edwards set Mile High Mile event records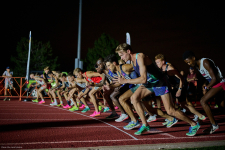 July 29, 2023
Boulder Road Runners and the local community come together for a unique event of iconic distance on home turf
By Club News
BOULDER, Colo. – With electric energy from a roaring crowd, The Mile High Mile delivered plenty of excitement Saturday evening at the Fairview High School track. The unique event, produced by the Boulder Road Runners, featured over ten separate heats of the Mile for runners of all ages and abilities – from Youth to Masters to Elites, as well as the Teri Leiker Memorial Mile. A record number of athletes took to the track to run or walk four laps in their specific race.
In The Legend of Bagger Vance style, at the 5th edition, the evening's final three races were contested under automobile headlights and mobile phone flashlights held by screaming fans when the stadium lights didn't come on.
The Men's Elite Mile, sponsored by Colorado Sports Chiropractic, featured the event's strongest field yet, with six sub-4 minute Mile personal record runners, including top U.S. Miler and local resident Drew Hunter, who paced the race through 1000 meters for his Tinman Elite Teammates. Ultimately, 1500 meter specialist Austen Dalquist powered away from a tight pack over the last 100 meters to win in 4:02.55. A member of the local Roots Running team, Dalquist's win comes a week after posting a 1500m PR of 3:37 last week at Sound Running's Sunset Tour stop in Los Angeles.
"It (running in the dark) was very disorienting, hard to gauge your pace, yet electric. But come on, this was great, so fun (racing) on home soil," said Brian Barraza (4:05), a top 3000 meter steeplechase athlete mixing it up with the Milers. "Everybody standing in lane four cheering really brought the energy."
The Elite Women's Mile, sponsored by High Plains Bank, featured Kaela Edwards, another Boulder County resident and 800 meter ace, who last month earned a spot on the Team USAS and will be racing at the World Championships in Budapest beginning August 19th. Local standout and 800m high school national champion, Madison Shults paced Edwards perfectly through the halfway mark in 2:15, and on target for Emma Coburn's 4:32.72 Colorado Soil record. Edwards stopped the clock at 4:34.38, narrowly missing the record by 1.66 seconds. Raucous fans didn't care, regaling Edwards's heroic effort, and those of local marathon pro Maggie Montoya, who ran to a remarkable 4:38 while in the middle of a training block for the Chicago Marathon in October.
"Stepping up to the Mile is hard (and at altitude)," commented Edwards. "I'm used to hurting for 200 meters. In the Mile, you hurt for 600 meters. This is great for building the toughness it takes to get through the qualifying rounds of an event like the World Championships to make an event final."
Both elite Mile champions also set event records; previous records from 2021 of 4:06.11 by Jeff Thies and 4:38.34 by Sara Vaughn.
Race Director and Mile High Mile founder Todd Straka was thrilled with the support from athletes and sponsors. "We have worked hard the past five years to build the Mile High Mile into a 'home meet' opportunity for the many local elites that train in Boulder, but rarely have an opportunity to race here," said Straka.
"Local sponsors and Boulder Road Runners members have really stepped up providing the financial resources to make this possible with a total prize purse of $4000, including a unique time bonus structure for runners finishing faster than a set standard. Local elite teams and athletes understand we need their partnership to produce a national class event in our community. They did their part tonight and then some," he continued.
Racing in front of her parents on Dad's birthday weekend, Edwards added, "Racing at home, in an environment like this, is so nice. It takes away the anxiety and training disruption that travel creates. I gave my Dad my winner prizes. This was special for our family."
Continue reading, includes complete race results and more race photos, at: boulderroadrunners.org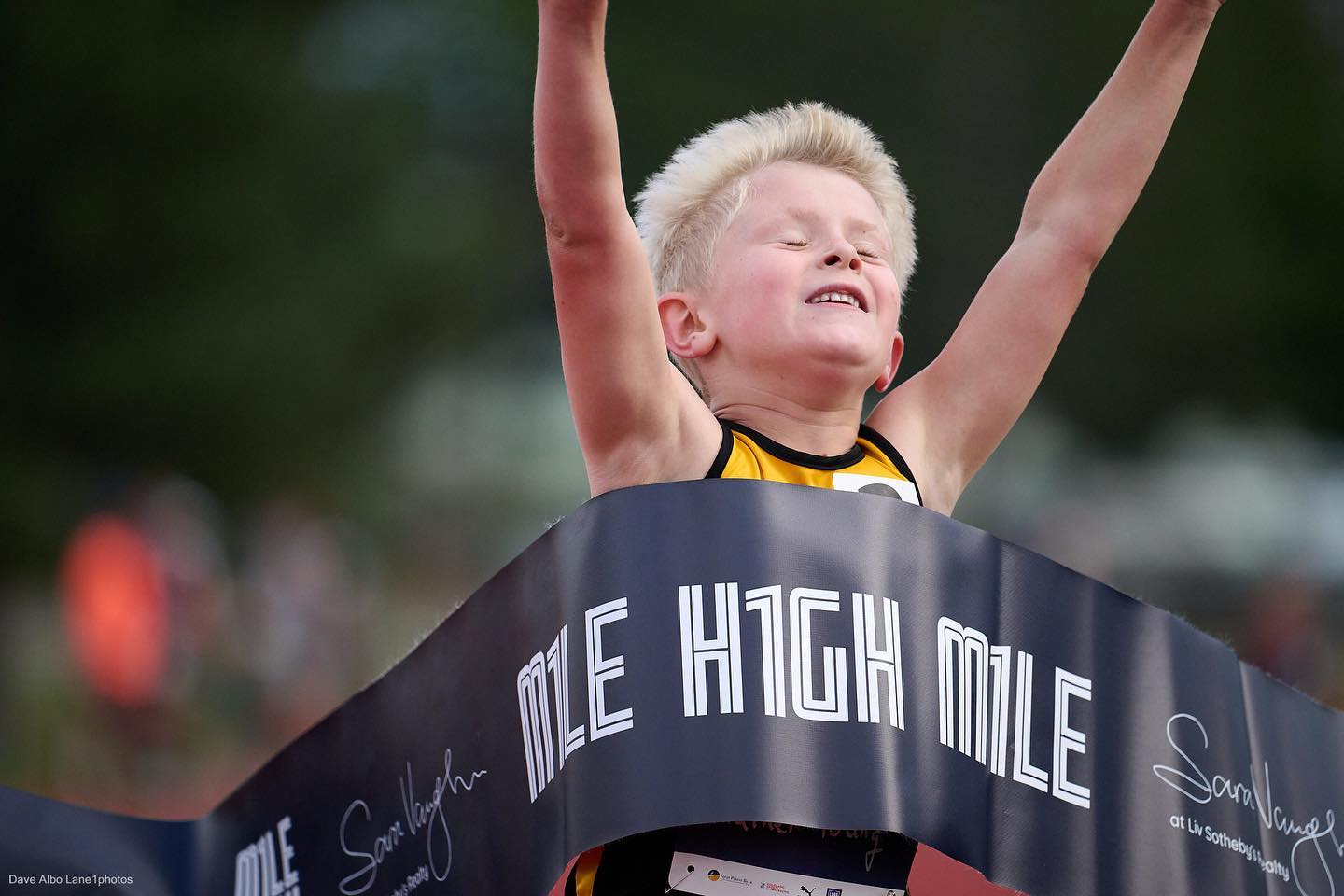 Photo credit: Dave Albo