David Torrence Wins Lodi Mile in Close Race with AJ Acosta as Both Clock 4:14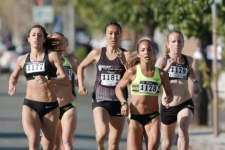 March 31, 2015
The California All-Stars and the Sacramento Running Association bring home Old Vine Trophies and lion's share of $4000 prize purse in elite team competition.
By The Lodi Mile
The book is closed on the 2015 Lodi Mile. The event, presented by Blue Shield of California, Michael David Winery and TSH Inc. Lodi Physical Therapy hosted runners competing across 7 different races under clear, sunny skies, through the streets of downtown Lodi. The event featured races for young kids, high school athletes, Blue Shield of California employees, open athletes, crossfitters and public servants, and was capped off by Elite Team Championship races. Onlookers who blanketed the sidewalks of the loop course, and watched from trackside seating at the bars and restaurants viewed inspiring performances and enjoyable tours of Lodi's scenic streets. Top male and female finishers of select races took home bottles of Michael David wine, and Nike shoes from Fleet Feet Stockton.
Very close scores decided the Elite Team Championship Races. The women's race featured a riveting battle between the Bay Area Track Club and the Sacramento Running Association. Geena Lara (SRA – guest) wasted no time, pulling the field through a very honest first half, before Ayla Granados (SRA) took her turn at the front in an effort to break any links in the chain. The individual crown was taken in a strong push up the finishing straight by Ruriko Kubo of the BATC (4:42). She was closely followed by a hard charging Lara (4:42) and Granados (4:42) of the SRA whose points, combined with Tori Tyler's (4:51) fifth place showing were enough to secure victory and the Old Vine Trophy for the SRA, 10 points to 11.
The men's race pitted the Brooks Beasts of Seattle against the Golden Boys of the California All Stars. The race got off to a dawdling start as each team sized each other up in a tight pack that didn't stretch until Matt Hillenbrand (Beasts) made a move just after half a mile. Hillenbrand and AJ Acosta (CAS) the lead for the next quarter mile before David Torrence (CAS) secured the front for good as he stormed up School Street, chin tucked down, peering out from under his brow. A fast closing Acosta gave the CA All Stars a 1-2 punch that secured them The Old Vine Trophy, along with Tommy Schmitz's 6 points in a final score of 9-12.
Continue reading at: www.letsrun.com